FACULTY OF MANAGEMENT - Best faculty in Chandigarh college | Lacderabassi campus
Each faculty member has been handpicked – not just for their knowledge and competence in their area of expertise but for their dedication to their field and their commitment to the student fraternity. This stringent selection policy has ensured that Top Best faculty in lacderabassi  Mohali college provided – rich in experience, with a wealth of knowledge and sincerity. This highly qualified and competent team of faculty members is led by the Principal Dr. Vinod Katyal. We are proud to have a lucrative combination of committed, experienced and able faculty members.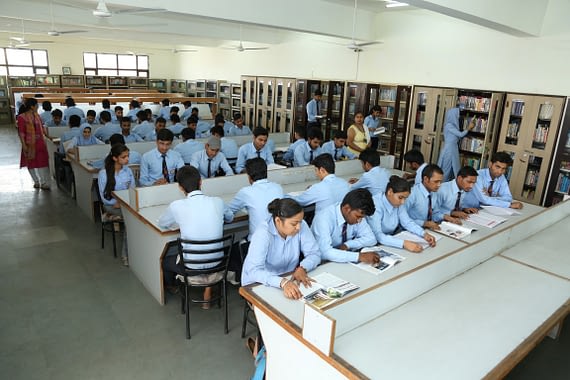 Library facilities in Chandigarh | LAC Derabassi Campus
Libraries are the soul of every Institutions of higher learning. It is here that the students develop their own individual style of learning and reach out for more. The pursuance of excellence is a worthy goal for any student, scholar or academic. Keeping with this belief Lacderabassi college campus has spacious library with a good collection of books. Apart from books, the library facility in College subscribes to a number of Publications both National and International journals to keep the students abreast on developments of their interest as well as on general topics. Standard text books and books by authors of repute in all fields taught at the college are stocked. The Lacderabassi college campus follows a policy of buying multiple copies of many of these books to make them available to a large number of students. Thus students are not likely to be handicapped for want of reference materials at any time. Study material is accessible via a computerized catalogue covering all collections in the college. Thus, the best educational facilities like advanced Library facility is available at Lacderabassi Campus.
Transport - College bus facility in Chandigarh | LAC Derabassi Campus
Though the college is situated 20 kms from the city, for the convenience of the students and teachers commuting, Lacderabassi college provides best bus facility from Chandigarh Mohali Panchkula to Campus which includes providing a fleet of buses which pick up the students from all major residential areas of the city and drop them back after college hours.
This apart, very large number of buses of Govt. public transport system ply on this route regularly for commuters from the city. The bus routes are operated after taking into account the need of the students. All students make use of the college transport or stay in the hostel. This shows the best bus facility arrangement for students to reach College Campus without hindrance.
Canteen Facility in College | LAC Derabassi Campus
Students enjoy their food in the aesthetic and appetising atmosphere. The canteen is the lifeblood of the students. For students and teachers alike, the canteen is a welcome break from the routine of lessons. The homely atmosphere and aroma of delicious food permeates the air as they eat, drink and chat. It remains a focal place of the students for rest and refreshment at best canteen in college campus of Lacderabassi .
Hostel facility in LAC Derabassi College Campus
Lacderabassi college campus have separate hostels that cater to boys and girls. The hostels are equipped with several amenities like indoor games, reading rooms, recreation rooms etc. The hostels are governed by the hostel council. The hostels also have resident deputy wardens who ensure the welfare of the students while they are in the college campus. Hostel staff as well as the teaching staff on campus is there for students in the case of unforeseen exigency of or simply a query.PG facility too, is available separately for boys and girls. Avail hostel facility at lacderabassi College in Chandigarh Punjab Mohali Derabassi.
Seminar Hall
LAC has fully air conditioned seminar hall well equipped with LCD projectors and world class acoustics system.